This is my home town. The following images were taken after the EF5 tornado that struck Joplin, MO. Sunday, May 22, 2011. Here is my story.Sunday evening… five o'clock something… the tornado sirens go off. Huddled in the closet… holding the door tight… praying… windows breaking… debris hitting the house… trees, large beautiful trees hitting the ground. Exit closet… start crying… call Tyler… drop call… look outside… trees uprooted out of the ground… CIAOS. Not a very good story, I know, but that's how it felt.
Some the photos that I shared were taken right after the tornado hit. A couple blocks south of my home is (was) a small retirement home. The sadness that hovered amongst the individuals that were desperately seeking to find others amongst the rubble left me speechless. As I walked down the street, I did nothing but stare in devastation. So many stories have surfaced since that tornado. My story is one of blessing; I still have my car, I still have a bed to sleep in, I still have my job. Not everyone has those things.
One of the most beautiful things that came from the devastation of this tornado has been watching the community of Joplin come together along with others around the nation to support each other.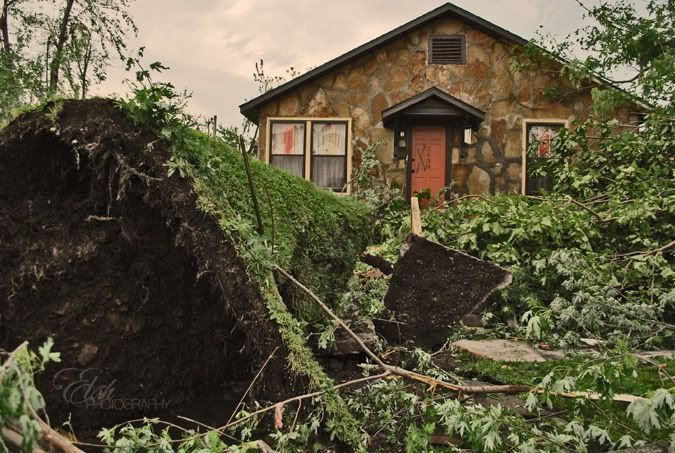 My house after the storm. We are so blessed to only have minor damage.