Multnoham Falls is definitely a must see if you're visiting Portland, especially since it's only about 30 minutes from the airport and the drive is a breeze. There are so many amazing things about Portland, but I have to point out how easy it is to get places. It's not like trying to get around or though LA… talk about trying to go north or south on I5… or trying to drive through Manhattan, not thanks. (That's why Tyler and I always take the train into NYC, haha. )
Multnoham Falls is the second largest waterfall in the national so make sure to put it on your list, it's also just really fun, absolutely beautiful, people are super friendly, and if weather is decent you can turn it into a good hike.
WHEN TO VISIT
Before we visited Multnoham Falls we learned that the best time to go is on a week day and regardless of what day you go on you should go first thing in the morning. The falls can get pretty crowded so going in the morning ensure's you'll grab a parking spot and be able to view the falls.
We were on the road by 7:30am and arrived around 8:00am. Arriving at that time was perfect as not many people had arrived yet.
WHERE TO PARK
Parking is super easy as long as you visit the falls early. There is a parking lot across the street from the falls. You'll see it has you approach, so there's no stress to try to find it. When we arrived at 8:00am there were plenty of parking spots, but as we left… probably around 8:45am or 9:00am, the lot was already filling up.
WHAT TO EXPECT
You'll see the falls the minute you arrive and access to viewing the falls is easy to get too. I wondered if there would be a lot of dirt and mud getting to the falls… like would I be hiking through the woods?😂 I considered taking my favorite hiking shoes, but my New Balance ended up being perfect, because most everything was paved. It's super easy to take pictures too. My brother and I walked up to the viewing area and snapped a few photos as Tyler hung behind and took photos from the road. Remember arriving early is a game changer. Fewer people made it easier to get fun pictures and the other early birds that arrived when we did were super nice and took pictures of all us us together. We swapped pictures with so many people. Tyler is great at offering to take pictures of couples and families. It's such a nice thing when everyone can be in the photo.
LENGTH OF THE HIKE
The are two main places to hike to when visiting Multnoham Falls. You can hike to the bridge and you can hike to the top of the falls. We were unable to hike to the top of the falls because it was closed due to mud slides. We did take a super quick hike (more like a walk) to the bridge and it was less than 10 minutes. Definitely walk to the bridge if you can. It's fun to get pictures and you're able to view the water fall even closer. The walk to the bridge is also paved and easy to do in sneakers.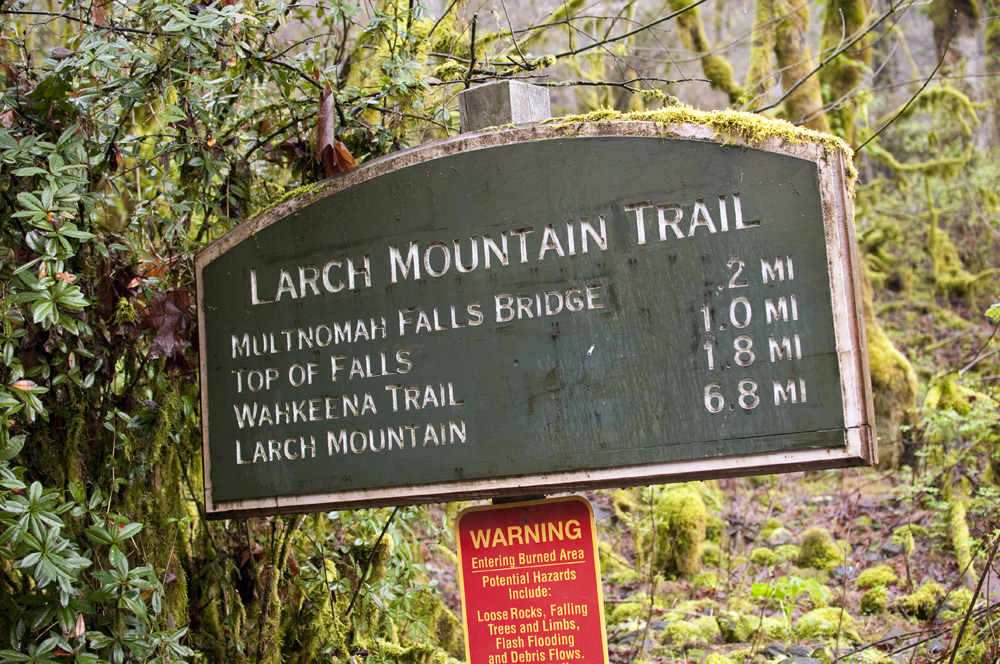 MAKE TIME FOR WAHKEENA FALLS
On the way to Multnomah Falls you'll actually pass Wahkeena falls, if you're coming from the west (from the airport.) If you come from the east you won't pass it on your way in, but it's worth going to on your way out. We loved visiting Wahkeena Falls, because you can actually get really close to it, as you can hike to a bridge as well. Parking it easy here too. There is a small parking lot across the street.
HIKING TO THE FALLS
At the entrance of Wahkeena falls near the road there is a small viewing area and two trails. If your looking up at the falls one trail will lead right and one trail will lead left. To get to the bridge of Wahkeena falls take the trail to the right. It's a short hike, maybe 10 or 15 minutes and it has a small incline. The trail is well manicured, but a little more muddy. I would have benefited from having my hiking shoes, but my N's did great… they just ended up a little muddy. I wouldn't recommend taking small children on this hike as there is a section right before the bridge that is a little sketching. It would be tricky for little people to navigate and I don't know if a stroller would do great either.
WHAT TO EXPECT
You're going to get wet, haha. If you want to really experience the water fall up close be prepared to get a little wet and take a rain jacket. There is a lot of spray off the water fall and when you cross the bridge it's crazy windy. It's so fun, but yeah, you're going to get a little wet. There are plenty of opportunities for fun photos too. Tyler took lots of photos with our Nikon D300s and the camera took plenty of water fall spray too and was just fine.
THE TRAIL TO THE LEFT
If you decide to also hike the trail to the left I think you can take it all the way to Multnomah Falls. We only hiked this for a short distance before we turned back and learned that the other trail leads to the water fall.
DRIVE BACK ON E HISTORIC COLUMBIA RIVER HWY
When we drove to the falls we took I-84, but when we drove back we took old Historic Colombia River Hwy. This will add an extra 30 minutes on to your drive, but if you have time it's worth it. There are even more water falls to see, smaller but just as beautiful and you can also stop at Vista House and take in all the amazing scenery.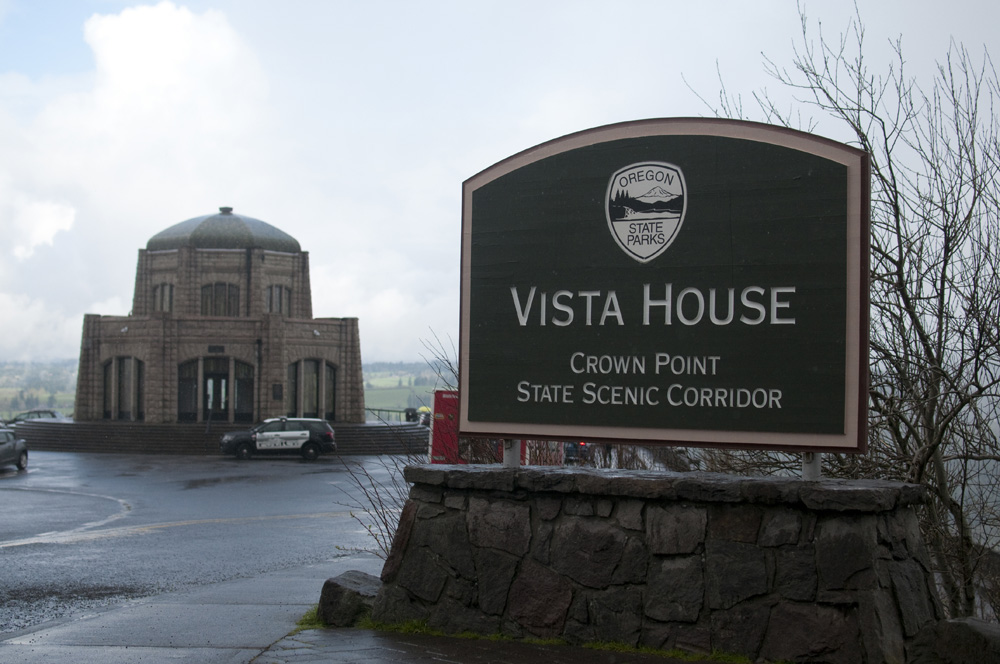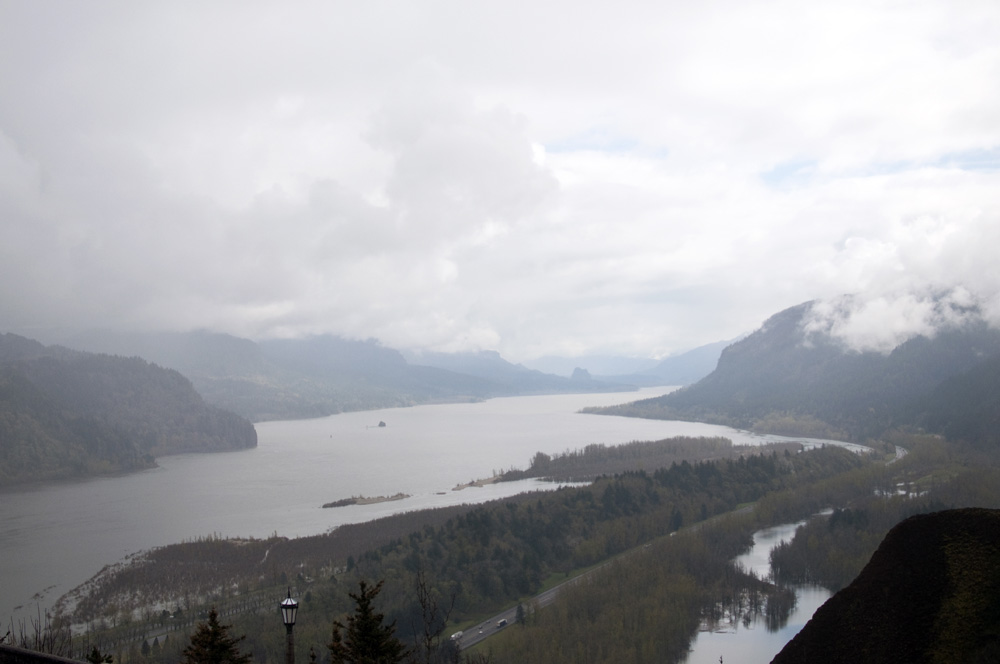 A few things to note. We visited in mid-April, so most of the days were rainy… not heavy down pours, but light rain, and the sun would often peak out in the afternoon. It was cooler too, so we did a lot of layers and made sure to have rain jackets. The rain never kept us from seeing anything or visiting some where fun, it just meant we got a little wet.